<--previous-- -home- -sitemap- -works- -statements- -résumé- -calendar- -recent- -current- --next-->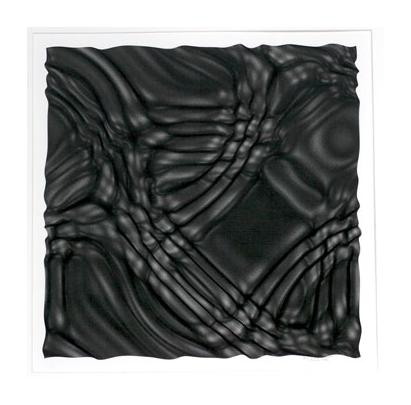 laque noire (1990)
pen and ink on paper, 22x22 arches paper


"imaging by numbers: a historical view of the computer print"
the block museum at northwestern university (chicago, il) presented "space, color, and motion", [jan-apr '08] and "imaging by number", two shows about digital art from its dawn to date, curated by debora wood and paul hertz [jan-apr '08].
ulysses was in the former show, and two drawings were in the latter (one china ink on paper, the other graphite lead on mylar). these drawings are now in the collection of digital works started by the block museum, the first such museum collection in the us, following on two similar initiatives in the uk (victoria and albert museum, london) and in germany (kunsthalle, bremen). five etchings (solar plate transfers and dry points on copper) were later added to the block collection.
what is a line? it is life. a line must live at each point along its course in such a way that the artist's presence makes itself felt above that of the model...
(jean cocteau)

jean-pierre hébert contact. (27 Oct 2012)